For our family it is just that! Our youngest, Victoria, is graduating from high school and a chapter will close. Yet, a new one will open this coming August as she will start her college career at Oral Roberts University here in our city of Tulsa. She has been accepted to the College of Nursing to pursuit a dream and a calling she received during a series of our medical mission trips to the nation of the Dominican Republic. What a beautiful thing to see the Hand of God at work, especially when it is someone so close to my heart. What an amazing God we serve. All I have left to say is… JESUS…thank you!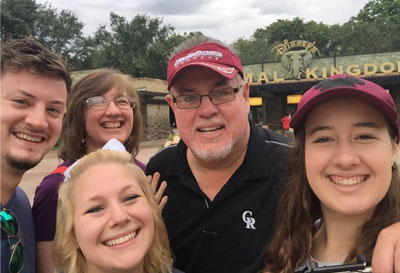 In about three weeks, a group of 11 amazing young missionaries (I am including my wife and I on this statement), will depart for Europe, Eastern Europe to be exact! OTTOM is thrilled to return with a team to Europe and the nations of Hungary, Romania and a quick visit to Austria. Our 11 day journey will take us to the amazing city of Budapest, Capital city of Hungary and Oradea, in the province of Transylvania in the western side of Romania. In both locations, we will bring our dramatic production of "Out of the Grey" and a few other dance pieces. We will be busy with presentations in churches, orphanages, public venues and even a festival in Romania.
During our time in Romania, we will also visit the largest orphanage in that city. Around 200 kids ages 2-17 live there. We will go and invest a full day with them, sharing JESUS and building, what I know will be, a life-time connection with them.
I am very excited about this trip and it is not necessarily the destinations, but the folks that make up this team. This team is made of 4 Jr. Leaders, others that have traveled with OTTOM multiple time and a couple that are very new to us, but come very highly recommended. I know that God hand-picked this team and I know it is destined for good things…correction…great things to come, not only for these nations but for our own lives.
It is also exciting to know how excited our local contacts are, especially when this is the first time we are working with them. I love to see the Godly-connections at work. One of our alumni, now a missionary in Amsterdam, Holland is our bridge to connect with our new friends in Budapest and Oradea. What a beautiful thing to see…the family of God able and willing to share resources and all for the Name of The ONE, JESUS!
Sometime we think of Europe as this big place with large distances among the nations, but this is really not the case. This becomes so true when our team will have a day off in the city of Vienna, in Austria, which is only a couple hours away from Budapest. Two amazing and gorgeous cities and we get to experience them to the fullest and with a purpose. God, thank you for giving YOUR children gifts like this.
So I close this blog with one simple request. Please pray for our teams, but especially for the Europe team that departs this month. The travel will be long, the ministry intense and the challenges will be there, but we serve a tremendous God that covers us and is MORE than ENOUGH!
God bless you all!
Committed to make a difference,
Pastor Victor A. Cruz
President – One to the Other Ministries
Touching Lives…Impacting Communities…Since 1986…In 65 Nations!